Products
At Movie Poster Shop, we carry a wide variety of great products. Not only do we have Movie Posters of various types and sizes, but also Still Photos, Lobby Cards, and Framing Options!
To learn more about all different types of posters and their sizes,
Click Here
.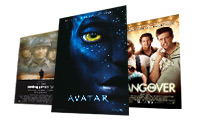 Poster Varieties
We offer several different sizes of posters – just pick the size that fits your space! All sizes listed are in inches. The standard movie poster size you see in theaters is 27" x 40". Some of our most popular products however are the 11" x 17" mini-poster sizes. These are a great option if you have a limited space.
Poster Types & Sizes:
View Poster Varieties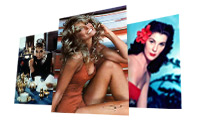 Still Photos
Sometimes there's just an iconic moment in a film that you want to preserve, but the marketing geniuses didn't turn it into a poster. Well here's where you can find a picture of that beautiful moment in cinema.
View Still Photos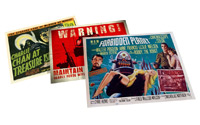 Lobby Cards
Another throwback to the olden days of film, lobby cards are generally only used for foreign films now. The standard size is 11" x 14" and they were often displayed in the theater lobbies – go figure! Like inserts, lobby cards remain a highly prized collectible for fans.
View Lobby Cards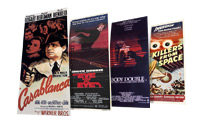 Inserts
Here's a bit of history for you! Inserts are one of the earliest movie poster sizes; first used in the 1910's and used extensively through the 1980's. These are generally sized 14" x 36" and they remain a popular collectible among movie fans.
View Inserts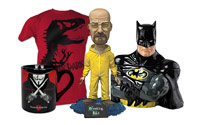 Action Figures, Shirts and More
Not only do we offer a ton of great poster prints and artwork, but also stock a huge variety of toys, games and apparel from all of today's most popular movies and television shows!
View All Memorabilia