Exclusive First Look at the New Lisbeth Salander Posters
The folks at Lisbeth Salander.com have given us the opportunity to showcase an exclusive First Look at some Lisbeth Salander advance posters inspired by "The Girl With the Dragon Tattoo". The posters have been released to promote the upcoming launch of www.lisbethsalander.com. Lisbeth Salander is the enigmatic (among many things) female protagonist of the "Millennium Trilogy" series of books written by Stieg Larsson that have taken the publishing business by storm selling in excess of 50 million copies worldwide. All three novels were made as TV mini-series in Sweden and then released in shortened versions cinematically in the US and other markets. The first book in the series, "The Girl With The Dragon Tattoo.", starring Rooney Mara and Daniel Craig is being remade for Sony Pictures by director savant, David Fincher.
Tearing a page from the studio marketing departments, Lisbeth Salander.com has released these new posters as a part of a campaign to promote the upcoming site. The first advance posters have ripped images from scenes right out of the pages of the first book "The Girl With the Dragon Tattoo". As far as we know, this is the first time any website has followed the well-traveled cinematic path of using posters to market their property. The posters will be available for purchase from www.lisbethsalander.com in the next few weeks. Stay tuned to Movie Poster Shop for an exclusive first look at posters and other products soon to be available from Lisbeth Salander.com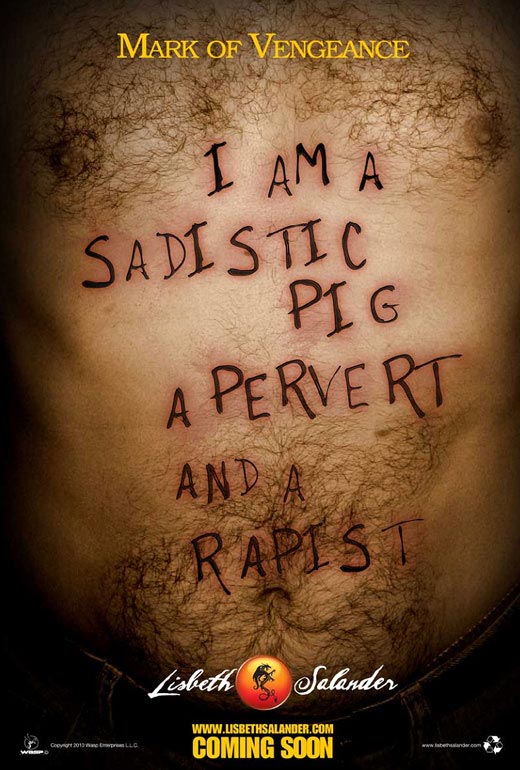 "Sadistic Pig" Poster
In "The Girl With The Dragon Tattoo", Lisbeth Salander is viciously raped by her court appointed guardian, lawyer Nils Bjurman. She returns to exact revenge on him, among other things, she tattoos this "Mark of Vengeance" on his stomach.
This poster tells it all, it couldn't happen to a nicer guy.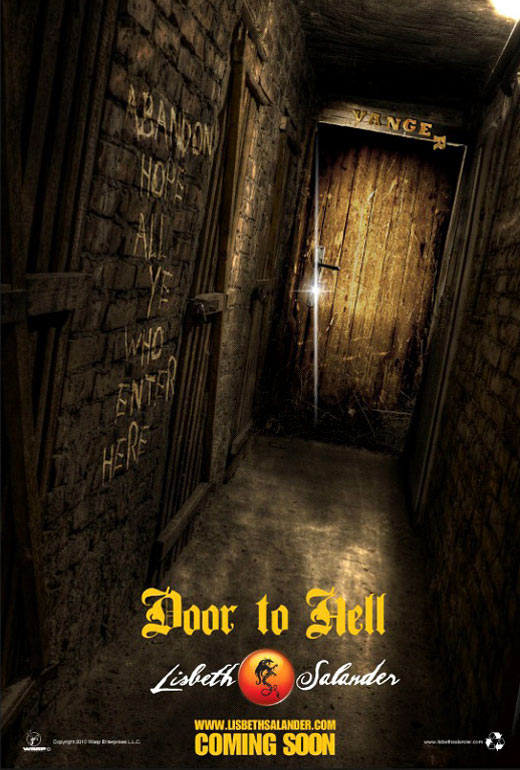 "Door to Hell" Poster
Towards the end of "The Girl With Dragon Tattoo", we learn that one of the members of the Vanger Family has set up a "Little Shop of Horrors" in a specially constructed dungeon. All manner of unspeakable things happened in this horrific place.
This poster shows the entrance to the dungeon and what can only be described as "The Door to Hell". Look for the warning scrawled on the walls.